When the Copper Range reached its northern terminus at Houghton it built itself a sprawling lakeside rail yard just west the city. It complimented that yard with a passenger depot, but not just any depot. While along the rest of its tracks the company erected rather modest wood framed one-story buildings for its depots, at Houghton it built a building deserving its metropolitan location. The result was a grand two-story brick station beautifully accented with sandstone quoins, lintels, and belt courses. Of course it had to be beautiful as it also served as the railroad's main offices; there was the railroad's public image to keep in mind.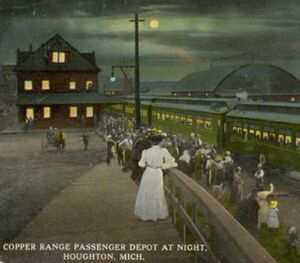 Fast forward a century and you find the old building still  standing, looking hardly worse for wear. Of course such a well built structure couldn't pass into the night easily, as even after the Copper Range closed its doors and the rest of the rail yard surrounding it had been erased from the landscape the old depot managed to survive. After being vacated by the railroad the building would end up serving as a restaurant for some time, resulting in a large addition to its unseen backside. Today the building serves as a doctors office.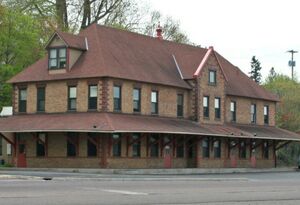 Of course a century ago it would be trains and not cars that would park in front of the building's awning covered front stoop. Along here passengers would step up into cars for trips northward to Calumet or southward through connections with other railroads to almost any other point in the country. For a time the depot was known as the Copper Range Union Depot, for its shared use by both the Copper Range and the Chicago, Milwaukee, St. Paul, and Pacific Railroad, otherwise known as the Milwaukee Road. The Milwaukee Road offered daily passenger service from the Copper Country to Chicago (and vice versa) along DSS&A and Copper Range tracks.
Community content is available under
CC-BY-SA
unless otherwise noted.