Heikki Lunta is the embodiment of the Finnish snow god character, who originated in the mythology of the Upper Peninsula of Michigan.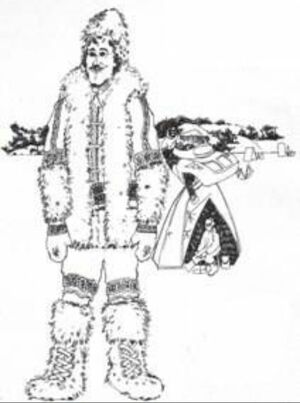 The character of Heikki Lunta is a product of the heavy Finnish-American presence in Michigan's Upper Peninsula combined with a tremendous annual snowfall.
History
[
]
Origin
[
]
David Riutta created "Heikki Lunta" (the name translates to Hank Snow in English) in 1970. When an upcoming snowmobile race hosted by the Range Snowmobile Club of Atlantic Mine, Michigan was endangered by the lack of snowfall, Riutta, a worker at WMPL in Hancock, aired the "Heikki Lunta Snowdance Song." The song goes on to ask "Heikki Lunta," the Finnish snow god, for snow in time for the race. According to local tales, the snow fell and fell, until there was too much. People were superstitious that Riutta's song had caused too much snow for the race, so in response to public outcry, Riutta recorded a separate track entitled, "Heikki Lunta Go Away." The 45 showcased each song on alternate sides. The Negaunee Irontown Association created its own Heikki Lunta Winterfest, held every January in Negaunee, MI. It includes a Fishing derby, a Craft bazaar, a bonfire and fireworks over Teal Lake at Dusk. It originally opened with a Snowblower parade.
Gallery
[
]