J.W. Nara, a Finnish immigrant who settled in Michigan, imprinted many of his photos with his name, but many more of them were not marked. Hundreds of prints have come to be part of various collections and archives which sometimes do not use his name in conjunction with the photo. Still more copies of Nara's photos continued to circulate around the area in the possession of families and individuals who were the subjects of those photos, as well as others who recognized their historic value and became collectors.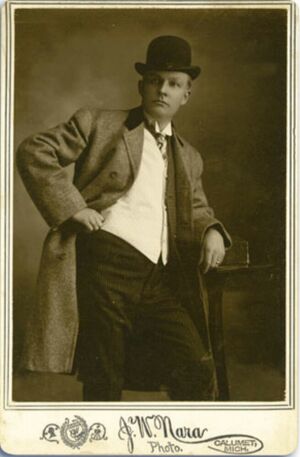 Photography
Edit
John William Nara, born in 1874 in the Tornio region of Finland, used his lens to chronicle the people and places of the Copper Country after migrating to the United States. He not only captured studio portraits, family events, and Keweenaw adventures, but he also had an eye for telling the story of the copper mining industry, with many of his subjects featuring miners, mine work, the 1913-1914 strike, and the industrial landscape. The exhibit will be on view at the Tori Market at MTU's Student Development Complex for the duration of FinnFest.
Rural Life
Edit
s J.W. Nara's photographic business grew, he invested in timber property in the Bootjack area outside Lake Linden. In addition to selective harvesting and milling of lumber, Nara leased cutover lands to Finnish immigrants for small farms. Often overlooked behind the prominent stories of copper mining and urban Calumet, J.W. Nara's images of farm families and life in these nearby rural settings document otherwise unseen aspects of the region's history.
J.W. Nara maintained a strong commitment to family. A brother, Frank, emigrated with him from Finland and assisted him in his photographic studio. They were later joined by cousins Isaac and Charles, and were known collectively as "the four Nara brothers" by many in Calumet. J.W. Nara not only documented the Keweenaw's mighty world of mining and industry in his photographs, but through family photos of wives, children, and extended families and friends, his lens also captured the everyday lives of Copper Country people. His spirit lives on in generations of Nara descendants, some of whom work the same timber lands J.W. Nara walked more than a century ago
Community content is available under
CC-BY-SA
unless otherwise noted.