James R. Dee, (1856-1946) born in Cliff Mine, in Keweenaw County, was a local businessman who organized the world's first professional hockey league here in the Copper Country. James Dee is recognized as the father of professional hockey in the United States. The first professional hockey league in the world, featured teams from Calumet, Sault Ste. Marie Canada, Sault Ste. Marie Michigan, Pittsburgh and the Portage Lake team. "His teams won international championships and laid the foundation for the formation of professional hockey leagues which are thriving in America today." according to the local newspaper on the occasion of his 90th birthday.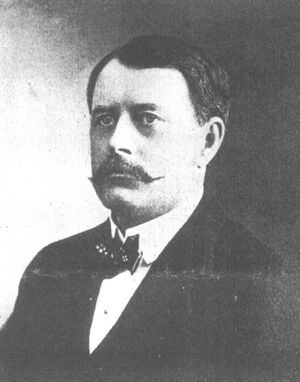 As a youth, Dee started working in this area as a telegraph operator, then after attending the 1876 Centennial in Philadelphia where he saw a demo on the telephone, he returned home to "sell" this new invention to businesses (these businesses could not, without great persuasion, see a use for this new "toy"!) He then went on to organize the Houghton County Electric Light Company, bringing the first electric lights in the county. He was one of the organizers of the Onigaming Yacht Club in 1894, the Portage Lake Golf Course in 1903, installed the first bowling alleys in the the county, was one of the organizers of the Copper Country Agricultural Association, the Douglas Hotel Company, lead the establishment of the motion picture theater, the Lode in Houghton, and he was one of the organizers of the first professional baseball league in the Copper Country as well as the world's first professional hockey league. As president of the James R. Dee Real Estate Company, he was responsible for the construction for such local landmarks as Sheldon-Dee Building, The Gazette Building, The Dee Hotel, The Board of Trade (now Library bar and grill) and the Telegraph Building, and established at his own expense, the Sun-O-Shine Public Beach. His interest in winter sports and hockey lead him to promote and organize a company to build the Amphidrome in 1902. It was the largest enclosed ice rink in the country at the time. When the Amphidrome was destroyed by fire in 1927, Dee took the lead in organizing the financing of construction of the New Amphidrome before the beginning of the next hockey season. This ice rink was purchased by the College of Mining and Technology (MTU/Michigan Tech) in 1943; at which time, they dedicated the rink the James R. Dee Stadium.
Community content is available under
CC-BY-SA
unless otherwise noted.