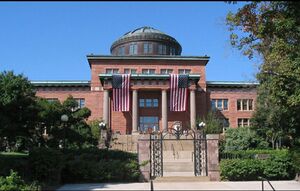 The Marquette County Courthouse is a government building located at 400 South 3rd Street in Marquette, Michigan. It designated a Michigan State Historic Site in 1976[2] and was listed on the National Register of Historic Places in 1978.[1] The courthouse was the setting of the 1959 film Anatomy of a Murder, directed by Otto Preminger.
In 1857, the first Marquette County courthouse, a wooden Greek Revivalstructure, was built on this site.[3] By the turn of the century, that structure had becom inadequate. In 1902, voters approved the issuance of $120,000 worth of bonds to construct a new courthouse. The earlier structure was moved off the site, and the county hired Marquette architect D. Fred Charlton (Charlton, Gilbert & Demar/Charlton & Kuenzli) to design the building. Northern Construction Company of Milwaukee, Wisconsin, was hired to construct the building.[4] The county eventually spent $240,000 to complete the structure; it was completed in 1904.[3]
The courthouse was the site of a famous 1913 libel case, where President Theodore Roosevelt won a judgment against Ishpeming newspaper publisher George Newett.[2]Roosevelt was awarded six cents, "the price of a good newspaper." Another later case tried here inspired John D. Voelker's novel,Anatomy of a Murder. The 1959 movie version of the novel, directed by Otto Preminger, was filmed in the courthouse.[2]
In 1982–84, the courthouse was renovated at a cost of $2.4 million.[2] A new courthouse and jail was built nearby, connected by a tunnel, but the 1904 building remains in use.[2]
Architecture and design
Edit
The Marquette County Courthouse is a Beaux-Arts and Neoclassical structure, with a central three-story mass flanked by two-story wings.[3] It is built almost entirely of localsandstone over a steel frame.[2] A colossalportico covers the entrance, lined with 23-foot (7.0 m) granite Doric columns from Maine.[4]A Doric entablature with copper cornice rings the roofline. A copper dome surmounts the building, and sits above the second-floor courtroom.[3]
Inside, the courtroom is finished withmahogany and marble. Mosaic tiles, wool carpeting, and stained glass fill the building.[4]
Community content is available under
CC-BY-SA
unless otherwise noted.