"You ought to be out raising hell. This is the fighting age. Put on your fighting clothes."
Mary Harris "Mother" Jones (1837[1][2] – 30 November 1930) was an Irish-American schoolteacher and dressmaker who became a prominent labor and community organizer. She then helped coordinate major strikes and cofounded the Industrial Workers of the World.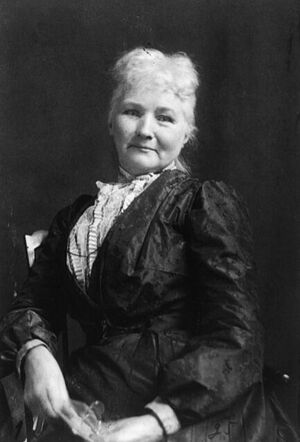 Biography
[
]
Jones worked as a teacher and dressmaker, but after her husband and four children all died of yellow fever and her workshop was destroyed in a fire in 1871, she began working as an organizer for the Knights of Labor and the United Mine Workers union. From 1897, at around 60 years of age, she was known as Mother Jones. In 1902 she was called "the most dangerous woman in America" for her success in organizing mine workers and their families against the mine owners. In 1903, upset about the lax enforcement of the child labor laws in the Pennsylvania mines and silk mills, she organized a Children's March from Philadelphia to the home of then presidentTheodore Roosevelt in New York. Mother Jones magazine, established in 1970, is named for her.
Background
[
]
Mary Harris was born on the north side ofCork City, Ireland, the daughter of Roman Catholic tenant farmers Richard Harris and Ellen (née Cotter) Harris.[3] She was baptized on 1 August 1837, which indicates she most likely was born in late July.[1] Recent materials list her baptism as 1 August 1837, although she later claimed her birth date to be 1 May 1830.[1] The date of 1 May was chosen to represent the national labor holiday and anniversary of the Haymarket affair, and the year (1830) to imply centenarian status
In the Copper Country
[
]
In 1913, Jones decided to come and aid the Western Federation of Miners in Michigan's Copper Country, this was known as the Copper Country Strike of 1913–1914.