Jurassic World: Dominion Dominates Fandom Wikis - The Loop
Play Sound
Reimund Holzhey was a stagecoach robber and murderer.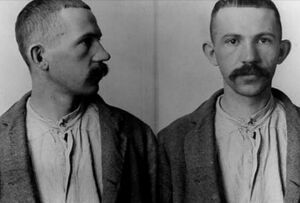 History
[
]
Holzhey was a really bad man and robber that sometimes carried a rifle and two guns. Now you ask what possible connection could there be between Reimund Holzhey and Black Bart? Well, here it is: In his day Reimund Holzhey was know as the "Black Bart" of the Upper Peninsula. He was, for a time (five months), the terror to all who were obliged to travel by other than rail in the Gogebic district. Holzey took Bart's name after reading about him in a dime novel, sort of a off-hand compliment to Bart. However, the real Black Bart never shot or killed anybody.
Reimund Holzhey's last robbery had a little history to it: On August 26, 1889 the last stagecoach robbery east of the Mississippi River was in Gogebic County, Michigan, on the road from Gogebic Station to The Gogebic Hotel. During the robbery a passenger decided to be a hero and pulled a gun and started shooting. The robber fired back, the shooter and an innocent passenger (possibly shot by the shooter not the robber) were wounded and the passenger later died. The robber, Reimund Holzhey, escaped.
Capture
[
]
Three days after the robbery Holzhey arrived in Republic, Michigan, and checked into the hotel as Henry Plant but, the hotel manager recognized him and called the sheriff. The next morning as he left the hotel they arrested him. Holzhey served 23 years in prison and was released. Holzhey died in 1952 of suicide.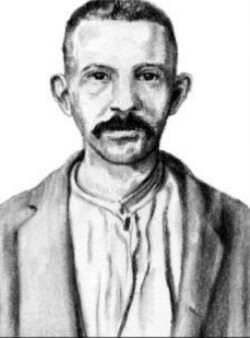 Victims
[
]
1889

Unspecified date, Somewhere near

Bessemer

Arnold Macarcher (held at gunpoint and shot through the jaw, survived)
Adolph Fleishchbien (incidental; shot twice in the abdomen, died seconds later)
Unnamed Woman (Held at gunpoint)