The Muldoons were a punk rock band in Michigan's Upper Peninsula.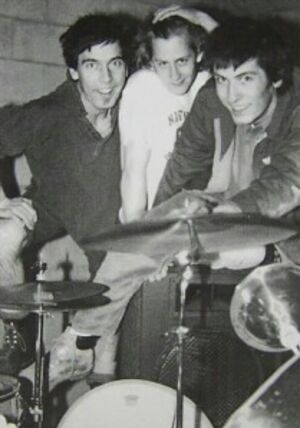 History
[
]
In 1988, three Marquette Senior High School juniors formed a punk rock band called The Muldoons. Among the founding members was a self-taught musician named Scott Uren. The group changed personnel many times over the next few years, but by 1992 the final line-up was in place: Scott Uren on bass, Marc Smith on guitar and vocals, and Ed Andrzejewski on drums.. ***1992 Cajsa Horvath was also the drummer for The Muldoons and deserves mention here..*** The Muldoons released a cassette in 1993 ("New Low") and a CD in 1994 ("Dim"). In 1997 the trio recorded one last batch of songs before calling it quits. They titled those unreleased recordings "Goodnight Muldoons, Goodnight Muldoons, I'll See You In My Dreams." Eleven songs from those sessions are being sold here for the first time.
In 1999, Scott Uren and Marc Smith renamed themselves Scotty Alan and Sycamore Smith, and relaunched The Muldoons as a foot-drumming, kazoo-blowing, acoustic duo. The pair released two CDs in the early 2000s ("The Wreck of the Muldoons" and "Dreadful Sorry") before splitting for good in 2004. The complete recordings of the two-man band are being made available for the first time since 2004. Scotty Alan continues to write and record as a solo performer. Sycamore Smith continues to write and record as a solo performer and as a member of the band The Redettes and also The Gray Beast. In honor of their beloved animal companions both past and present, The Muldoons are donating their share of sale proceeds to the Upper Peninsula Animal Welfare Shelter.