If you travel far enough into the rugged wilderness of Ontonagon County between the town of Ontonagon and Porcupine Mountains State Park you'll come across a rather surreal site. Sitting miles from anywhere along a lonely stretch of road sits a suburban utopia of well manicured lawns and quant little ranch houses laid out along curving roads that casually move to and fro through the landscape. It's almost as if you've stepped back into time, visiting a surreal 1950′s landscape straight out of Pleasentville (minus the black and white of course). Congratulations, you've discovered the old mining town of White Pine.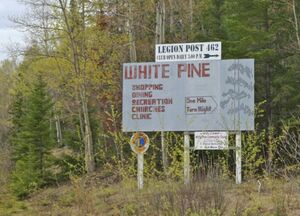 The White Pine Mine itself dates back to the late 1800′s, though its current configuration was born only a half century ago. Established in 1954 by the Copper Range Company, the White Pine Mine was a project partially financed by the government to help procure copper supplies during the Korean War. The mine worked a unique deposit that required a great deal of milling and processing to procure, requiring the erection of a massive milling and smelting facility.
Along with the mine Copper Range erected itself yet another company town. This time, however, the company took a slightly different approach. The sterilized conformity of turn of the century community planning was replaced by the free-flowing suburban attitudes of the 1950′s. Salt boxes and two story gabled homes were replaced by ranches and split levels, set back from the road on good sized lots platted along curving streets. The homes were spread out around a centralized town square that was home a grocery store, church, meeting hall, and school. The project was a success, and the mine prospered and grew. Before long the small company town had expanded substantially, becoming a modern community of several thousand people. The town received its own mall and recreational center, gas station, and several more schools. Yet like all company towns, the community was cursed with the ever present specter of the the mine's closure. In 1994 the inevitable finally happened, as the mine closed for good due to rising costs and environmental concerns. The town of White Pine was given its death notice.
Fast forward 18 years and the old mining town has amazingly continued to hold on to life, primarily as a bedroom community of retirees, snow birds, and workers from the neighboring state park. But the lack of a major industry has managed to take its toll, as the exciting opportunities offered by the communities entrance sign are all mostly absent today.